Introduction
Pain is one of the most common symptoms in patients admitted to intensive care units [1]. Despite the efforts made in the past three decades to manage patients' pain, it remains a major stressor for patients admitted to intensive care units [2]. Proper management of pain, especially in the intensive care unit, where many patients are unable to express their pain, is difficult [3]. Patients with reduced consciousness in ICU require mechanical ventilation, which is an important cause of pain in these patients [4].
Inadequate pain management leads to increased length of hospital stay, readmission, and patient dissatisfaction with the care provided [10-11] and ultimately morbidity and mortality [10, 12]. Methods for assessing pain must be appropriate to the patient's communication abilities. In patients who are unable to communicate verbally, observable behavioral and physiological indices are used to assess pain [13].
Despite the importance of accurate pain monitoring in critically ill patients in intensive care units who are unable to express their pain, as well as the relatively common and universal use of pain monitoring behavioral scales, this is still an important care challenge in patients' pain monitoring. Most nurses and physicians are unable to properly monitor and relieve pain in these patients [14]; therefore, this study aimed to identify and apply behavioral pain scale (BPS) by ICU nurses and to investigate its effect on pain diagnosis and palliative care in patients with low level of consciousness. It is hoped that the results of this study will be a step towards improving pain management and improving the quality of care in intensive care units.


Materials and Methods
This single-group quasi-experimental study was performed in 2011 with the participation of all nurses working in intensive care units of teaching hospitals of Hamadan. Inclusion criteria: All ICU nursing staff employed at General Besat and Farshchian Hospitals (Sina), with a bachelor's degree and above with at least six months' experience working in intensive care units who were not on maternity leave or long-term sick leave or under training. Direct researcher training was included. Inclusion criteria for patients included 24 hours after admission to the ICU, patients of the older age group (18 to 65 years) with decreased consciousness (Glasgow Scale 5 -8 score) who were unable to report their pain, with or without tracheal tube or tracheostomy tubes, patients under ventilator were given no muscle relaxants, no alcohol addiction or any other drug. Exclusion criteria also included nurses who, after undergoing training for reasons such as long-term sickness, transitional leave, or for any reason were unable to cooperate with this research project, patients with altered consciousness levels above or below the designated entry level, alcohol and drugs, patient's death or earlier discharge before sampling after intervention.
The instruments used in this study included the BPS scale for pain assessment in ICU patients (in the post-intervention phase) and the nurses' ability to diagnose pain (in the pre- and post-intervention phase). In the study of Chanques et al., which aimed to investigate the pain of patients with reduced consciousness and non-intubation level, the reliability of BPS scale with Cronbach's alpha was 0.79 [12]. In this study, Cronbach's alpha was calculated 0.85.
Before the intervention, the nurses evaluated the patient's ability to diagnose pain. Nurses participated in the study along with CDs. After completing the training of all the subjects, the BPS scale was placed as a poster on the bed of the patients who met the inclusion criteria.
The collected data were analyzed using SPSS 18. Descriptive statistics were used to determine the frequency, mean, and analytical statistics for comparing ratios and Kolmogorov-Smirnov and Chi-square (P<0.05).


Results
The findings showed that after the intervention, the ability to diagnose pain by nurses had optimally changed (Tables 1, 2). The frequency of use of pain relief drug methods increased from 625 to 1222, and the use of non-pharmacological pain relief also increased significantly (Tables 3, 4) (P<0/001).

Table 1. Relative ability of nurses to diagnose pain in three resting positions, changing position and suctioning of patients' secretion before and after the intervention


Table 2. Absolute and relative frequency distribution of nurses in terms of pain severity score in three states (rest (without any treatment), position change and suction secretion), before and after intervention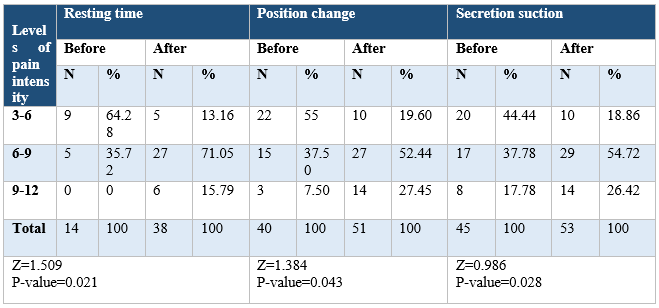 Table 3. Absolute and Relative Frequency Distribution of Pre and Post Medication Pain Relief Measures



Table 4. Absolute and Relative Frequency Distribution of Registered Non-Medicinal Pain Relief Methods for Patients' Pain Control, Before and After Intervention

Discussion
The results of this study showed an increase in nurses' ability to diagnose, monitor pain and apply more pharmacological and non-pharmacological pain relief methods. Most of the nurses (about 80%) did not recognize pain in the pre-intervention phase of the study to assess the difference between nurses' ability to recognize the presence and severity of pain (at rest, before and after the intervention). The same limited number who reported pain rated it as mild, but after the BPS scale training, most nurses (56.7%) had pain behavioral symptoms (facial posture) based on the BPS scale installed on the patients' bedside. Upper extremity movement, fight with a ventilator, or sighing and sobbing) have been reported to be associated with pain during rest (without any treatment). Also, 71.05% of nurses who diagnosed patients' pain at rest reported moderate and 15.7% reported it as severe, which is similar to the results of Chen et al.


Conclusion
The results of this study indicated that the use of BPS scale has been effective in diagnosing and monitoring pain in patients with decreased consciousness. And has led to optimal changes in the use of non-pharmacological pain relief medications as complementary therapies in intensive care units.


Acknowledgements
The present study is part of a research project of Shahid Beheshti University of Medical Sciences under project number 9883 and code of ethics IR.SBMU.1395.632. We would like to extend our gratitude to the respected officials of Shahid Beheshti University School of Nursing and Midwifery, the respected staff of Farshchian (Sina) and Besat Hospitals of Hamadan and all those who participated in this project and helped us.


Conflicts of Interest
The authors declared no conflict of interest regarding this article.