Introduction
Spine injuries are one of the most common health problems caused by vehicle crashes, falls from altitude, direct injuries such as sharp objects and wounds [2,1]. In intervertebral disc rupture, a discectomy with laminectomy is performed [3]. Patients undergoing spinal surgery experience severe pain due to skin incision, soft tissue damage, nerve fibers, and tissue stretching that can affect outcomes, complications, and patient satisfaction [6, 5].
Postoperative pain increases heart rate and oxygen demand, increases myocardial infarction risk, superficial respiration, sputum accumulation, immune function decline, etc. [7].
The use of patient-controlled pain pumps preserves patient independence, decreases nursing performance, postoperative complications, and finally leads to faster discharge [11]. Improper use of the pump by the patient can lead to high or low doses of the drug. High levels of the drug can increase the side effects of opioids (sedation, shortness of breath, nausea and vomiting, itching, hypotension and heart rate and urinary retention, decreased bowel movements and bloating), and low levels of medication may not alleviate pain [12,13].
Because of not knowing how Patient Controlled Analgesia (PCA) works, fear of complications, drug addiction and complexity of working with the device, most patients suffer from moderate to severe pain [16-18].
Therefore, in the present study, the effect of preoperative pain control training on the severity of pain, nausea and vomiting after spinal surgery was evaluated.


Materials and Methods
The present study is a single blind randomized controlled clinical trial performed in the neurosurgical ward of Dr. Fatemi Hospital in Ardabil from January 2017 to September 2018. Patients undergoing elective spine surgery, including cystectomy and open surgery, who met the inclusion criteria were selected and enrolled in the study. Inclusion criteria included age 18-60, hospitalization the night before surgery, verbal communication ability, no history of PCA pump use, and drug addiction. Exclusion criteria included drug sensitivity at the pump, reoperation, death, and transfer to another ward, receiving another analgesic in addition to the PCA pump within the first 24 hours after surgery, concurrent hospitalization of patients in the control and test rooms. Samples were selected as available and then randomly assigned to two groups of control and test; 60 cards were prepared: 30 cards with letter A (test group) and 30 cards with letter B (control group). The patients randomly selected one of the cards and were assigned to one of two control and test groups.
Data collection tools included patient personal information form (age, sex, type of insurance, smoking history, drugs, etc.) and clinical patient information form (anesthesia drugs, PCA pump medications, duration of surgery, and recovery and ...) that were completed by the researcher based on patient statements and patient file information for both groups. Numerical Rating Scale (NRS) was used to assess patients' pain severity.
Both groups received routine training in the use of the pump in the recovery department, but the intervention group received a 15-minute face-to-face intervention session using a sample of the PCA pump. Postoperative pain intensity, nausea, and vomiting in three times, 2, 4, 24 hours after surgery were assessed and compared. SPSS 16 (SPSS Inc., Chicago, Ill., USA) was used to analyze the data. P-value<0.05 was considered significant.
Results
Analyzing the demographic characteristics, no significant difference was observed (Table 1). The findings showed that there was a significant difference between the control and intervention groups regarding the severity of pain in times of 2, 4, and 24 hours postoperative (P<0.001) (Table 2). Pain severity in intervention group was decreased compared to control group (Table 3). However, there was no significant difference in nausea and vomiting frequency between the two groups (P>0.05) (Tables 4 & 5).

Table 1. Comparison of demographic and clinical variables in the intervention and control groups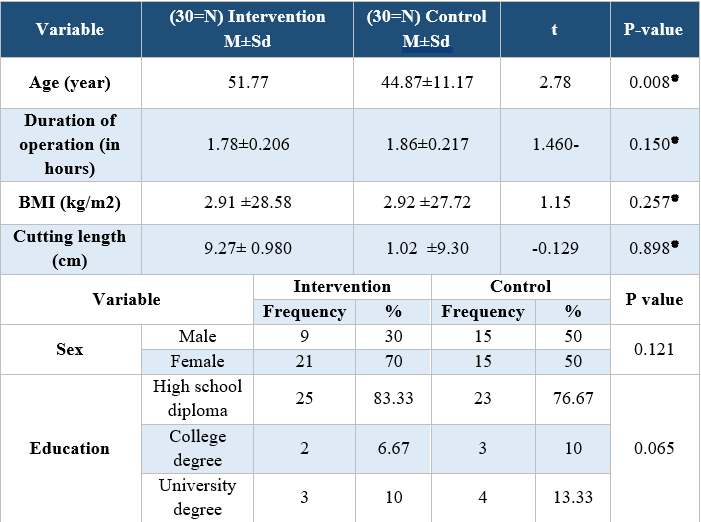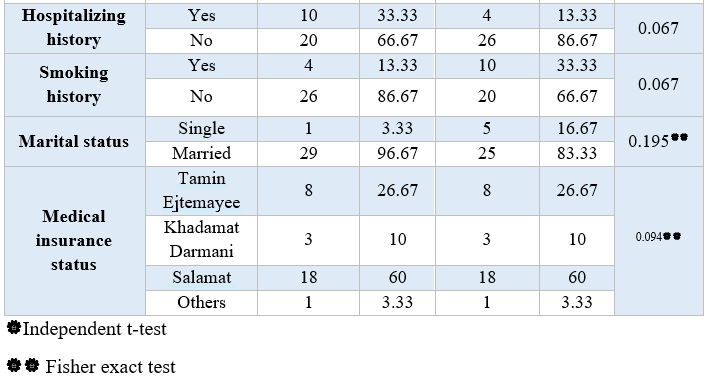 Table 2. Comparison of pain severity in the two intervention and control groups at three measurement times after surgery



Table 3. Comparison of the severity of nausea in the intervention and control groups at the three postoperative measurement times



Table 4. Comparison of vomiting incidence in intervention and control group patients at three measurement times



Table 5. Comparison of vomiting frequency between the two intervention and control groups at three measurement times


Discussion
The results showed that using 15 minutes pre-operative training can decrease the severity of pain without altering the acute drug side effects, such as nausea and vomiting. Findings showed that 2, 4 and 24 hours after surgery there was a statistically significant difference between the two groups in terms of pain intensity. Therefore, the research hypothesis was confirmed that preoperative education can reduce the severity of pain while the control group also used pain control pump because they did not receive proper training on how to work with the pump. Therefore, selection of appropriate training to present the necessary training can play an important role in application of this pump by patients.


Conclusion
Training how to use patient-controlled analgesia pump before operation, without changing the severity of nausea and vomiting, reduces pain after spinal cord surgery. Therefore, it is recommended that the way of using the pump, be taught before operation.


Acknowledgements
Researchers are grateful to University of Medical Sciences officials, nurses, study evaluators, and patients.


Conflicts of Interest
The authors declared no potential conflicts of interest with respect to the research, authorship, and/or publication of this article.