Introduction
Postpartum time is a critical period for the health of potential mothers and infants [2,1]. In this case, the problem may be confined to mortality and morbidity as a mother and child [3], in fact, the primary purpose of childbirth is to predict and diagnose immediate complications during this time [4]. Therfore, postpartum care services is the most important factor in preventing maternal supervisor outcomes and other supervision [5]. The postpartum period, when full of challenges and needs, is compatible with hormonal and physical performance, permitted to have childbirth complications and family counseling together and with the help and nutrition of you [6,7].
So far no study has investigated the effect of postpartum care counseling intervention on pregnancy and prenatal care. Therefore, the present study aimed to determine the effect of prenatal counseling on knowledge and practice of primiparous women in caring. Postpartum was performed.


Materials and Methods
This quasi-experimental study was performed on 96 primigravida mothers referring to Hamadan health centers in 2017. Inclusion criteria were first abdominal pregnancy, gestational age 32-34 weeks, normal and non-medical and midwifery pregnancy and electronic records in the clinic. Exclusion criteria were preterm labor, fetal intrauterine death and any medical and midwifery problems during the intervention, the absence of more than one consultation session.
Data collection tools included demographic and midwifery characteristics questionnaire and postpartum care knowledge and practice questionnaire including two sections of knowledge (containing 41 questions) and practice (containing 15 questions) based on the Ministry of Health and Medical Education and Postpartum care guidelines. The Iranian treatment was prepared by the research group. The Knowledge Questionnaire consisted of 41 questions with 4 items and the Functional Questionnaire consisted of 15 questions with 2 items. Correct answers, score one and wrong answer, score zero, and mean scores before and after the intervention were compared between the experimental and control groups. Minimum score of knowledge questionnaire was zero and maximum score was 41 and minimum score of Functional Questionnaire was 0 and maximum score was 15. Right answer to more than 70% of the questions was considered good knowledge, right answer to 30-70% of the questions, moderate awareness and answering right to less than 30% of the questions was considered poor awareness.
The validity of the questionnaires was confirmed by ten midwifery and reproductive health professors and its reliability was calculated 0.88 using Cronbach's alpha coefficient. Sample size was calculated according to the study of Mohammadi Rizi et al. and with a fall of 10%, 48 persons in each group and 96 persons in total [2]. To prevent the exchange of information, counseling sessions for the test group were held on individual days of the week. At first, after necessary explanations and informed consent, the questionnaires were completed by individuals in both experimental and control groups and after making necessary adjustments for the mothers in experimental group 32-34 weeks, 3 weekly counseling sessions in groups of 10-15. The study was conducted with the focus on postpartum care (Table 1).
Mothers in the control group received routine pregnancy care. After delivery, both groups completed the questionnaires again. Data were analyzed by SPSS 20 (SPSS Inc., Chicago, Ill., USA) using independent t-test, paired t-test and ANCOVA analysis of covariance.
Table 1. contains group counseling sessions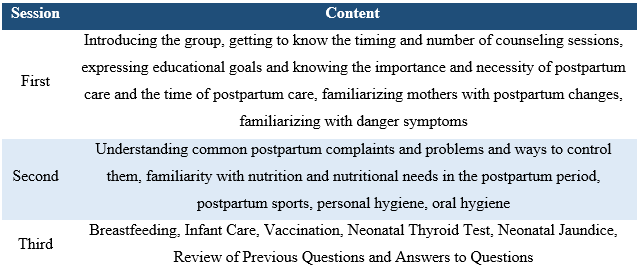 Results
The mean age of mothers in the experimental and control groups was 25.9±4.7 and 27.5±4.3 years, respectively, which were not statistically significant (P=0.09). The two groups were also homogeneous in terms of other demographic and midwifery characteristics (Table 2).

Table 2. Comparison of demographic and midwifery characteristics between the two groups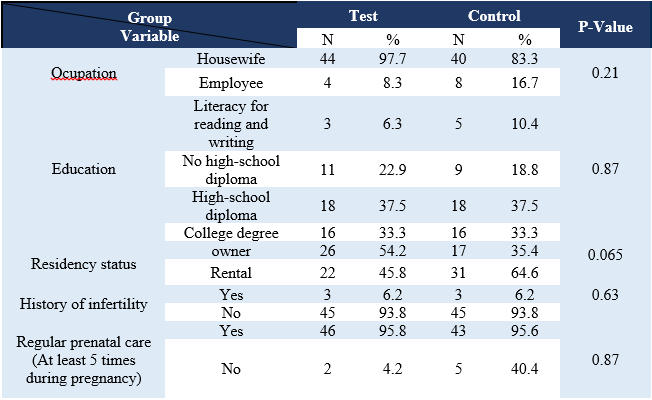 Independent t-test was used to compare mothers' knowledge about postpartum care between the control and test group before and after the intervention (Table 3). Because of the heterogeneity of mothers' knowledge in both control and pre-intervention groups, covariance analysis was used. The results showed that there was a significant difference between mothers' knowledge in the two groups before the intervention (F=57.68, df =1, P<0.001) and after the intervention (P<0.001, df =1, F=115.88) (Table 4).

Table 3: Comparison of pregnant mothers' knowledge about postpartum care before and after intervention between experimental and control groups

Table 4. Comparison of pregnant mothers' knowledge about postpartum care before and after the intervention in the experimental and control groups


The difference between the mean scores of mothers' knowledge in the experimental group before and after the intervention was significant (P<0.05), while this difference was not significant in the control group (P>0.05). The results showed that after consulting mothers and raising their awareness, the experimental group had a good performance in postpartum care which showed a significant difference with the control group (P<0.05).


Discussion
The results of this study showed that counseling with primiparous mothers can increase mothers' awareness in postpartum care and improve their performance.
Understanding the importance of pre-natal mothers and their postnatal care during pregnancy and before facing birth problems and stillbirth can reduce mortality and postnatal morbidity [13]. Shahjahan et al. reported that counseling could be provided during prenatal care to increase postpartum services [14]. Evidence suggests that improving maternal education is effective in improving the lives of mothers and infants [15]. Planning for health care and encouraging family support and planning a long-term educational program is necessary [16]. The results of the study by Vakilian et al. showed that there is a positive relationship between mothers' knowledge, attitude and practice and the group education method is effective on mothers' knowledge and practice during pregnancy and postpartum [17]. Masoumi et al. study showed that breastfeeding counseling can improve mothers 'exclusive nutrition and weight gain in preterm infants and improve their performancein term of breastfeeding [18]. In a study by Mohseni et al., the majority of mothers considered the best time for postpartum education during pregnancy and during prenatal care [19]. A study by Zamawe et al. showed that parental perception of the postpartum period and its cares and awareness of the causes of maternal mortality have an important role in receiving postpartum care [20]. The above studies were consistent with the present study.


Conclusion
The results of this study showed that counseling about postpartum care during pregnancy can increase mothers' knowledge and improve their performance in timely and regular delivery of postpartum care and adherence to their own and newborn care principles.


Acknowledgements
This article is the result of a Master's Degree approved at Hamadan University of Medical Sciences, No. 9605032951 and Code of Ethics (IR.UMSHA.REC.1396.344). We hereby acknowledge the Honorable Research Assistant of Hamadan University of Medical Sciences and all those who assisted us in the advancement of this study.


Conflicts of Interest
The authors declare no conflict of interest.